Range Time With the AR-30A1
During testing, I noticed no difference in recoil between the new and old rifles. Both muzzle breaks do a great job reducing recoil to a manageable level for most shooters. The barrel of each is free floating, all the way to the action. This design element is critical for both weapons' sub-MOA accuracy.
Other improvements include a bore guide built into the cheek rest, placed to guide a cleaning rod directly into the center of the chamber and barrel. These guide holes are located beneath the cheek piece, hidden from plain view and accessed by raising the cheek rest to the appropriate height.
Six hours on the range did nothing but build my confidence in the rifle. Not only did it perform seamlessly, it was impressively accurate. Once adjusted to my build, the cheek piece delivered tight shot placement with ease and allowed me to put impressive groups on paper. A Nightforce 5.5-22X Zero Stop optic mounted in high Trijicon 30mm rings provided and excellent match for the long-range rig.
Four brands of ammunition were tested by firing several 5-shot groups at 100 yards. An Oehler 35P recorded velocity data. I selected Federal, Barnes, Remington and Black Hills to wring out the 100-yard accuracy from this new rifle.
The 250-grain Federal Premium Match was the most accurate; the smallest group measuring .691 of an inch. Black Hills 250-grain loads were the second best performing, with the best group measuring .838. Military-grade Barnes 300-grain OTM was the heaviest bullet tested and produced groups as small as .845 inch.
The Remington match loads groups were the largest, but not by a significant margin. The best Remington group recorded measured .878 of an inch, which is still impressive. All brands of ammunition tested performed well, but Federal was the most consistent.
The Black Hills would be a great economy option; anyone familiar with the ravenous Lapua knows you must pay to play. If tenths of an inch are not a primary concern, go the economy route.
ArmaLite inhabits a special place in firearms history as the company that first delivered the AR-style rifle to both military and civilian shooters, and with their latest offering, the re-engineered company looks to build on that legacy and keep serious shooters coming back for more.
ArmaLite AR-30A1
Caliber:    .338 Lapua Magnum (tested), .300 Win. Mag.
Action Type::    Bolt-action
Receiver:    Through hardened
Barrel:    26-in. chrome moly
with 1:10 twist, muzzle brake
Magazine:    Five-round detachable
Trigger:    Single-stage
Sights:    None, Picatinny rail for ready optics mounting
Stock:    Adjustable cheek piece (height)
& buttstock (length)
Weight:    15.3 lbs.
Overall Length:    48.1 in. to 50.1 in.
Accessories:    Detachable sight and accessory rails, hard case, sling
SRP:    $3,599
Website:    armalite.com
This article appeared in the July 15, 2013 issue of Gun Digest the Magazine.
---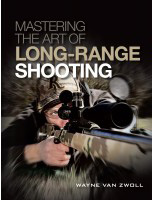 Recommended: Check out the new book Mastering the Art of Long-Range Shooting, by Wayne van Zwoll.