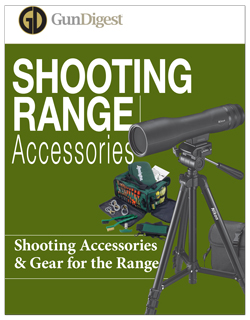 Exclusive for AR15.com newsletter subscribers! Enter your e-mail in the box below for a free digital book of shooting range accessories. You'll also receive e-newsletters from Gun Digest and partners full of more great information.
---

One of the immutable laws of firearms is that if the Israelis make or design something, it is sure to be of high quality and reliability—absolutely drop-dead battlefield reliable. The IWI Tavor SAR is exactly that.
However, one of my personal immutable laws of firearms is that if I don't like a particular firearm, I will tell you how I feel and why I feel that way. I don't like the Tavor.
It isn't for me, but it might be just the rifle you are looking for.I will start by saying that I am a traditional kind of guy when it comes to firearms, particularly long guns. They have to feel and point right for me, and operate in a "me friendly" manner.
A short list of my preferred defensive shoulder arms is the Ithaca M37 Defense Gun 12-gauge pump with bead sight, the M1 Carbine, the M16 A1 rifle and the M4 Carbine. Why? They all point and swing well, and snap up to the shoulder easily.
All can be fired from the right or left shoulder without doing anything more than moving them there. The exception is the M16A1. It has no case deflector, but aftermarket deflectors can easily be attached to the carry handle.
IWI Tavor Review: Designed for Close Combat
After Israel was established in 1948, their military relied on a plethora of arms supplied to it by its allies, arms that included the M1 Garand, M1 Carbine and the M16.
Close-in warfare and warfare in open deserts taught them that these weapon systems might not be ideal for their combat missions, and that it might be wise to find something that met their military needs more precisely.
From 1972 until the 2009, the Israeli Military fielded the 5.56mm Galil, a highly modified AK-47 variant. The Galil has been in service for 40 years and has served well, but the Israelis thought they could do better.
They needed a 5.56mm weapon system that was more compact and maneuverable and ready to go at a moment's notice. This time they built one of their own designs, the Tavor TAR-21. The Tavor SAR is the semiautomatic-only civilian legal variant of the TAR-21.
The SAR is different, radically different from most American combat rifles primarily because it is of bullpup configuration, where the action sits to the rear of the trigger assembly in the buttstock of the weapon.
This makes bullpup rifles much shorter than standard style combat rifles and outstanding for maneuvering in tight spaces, such as inside armored transport vehicles, aircraft, ships or tight hallways. That capability is the main reason for choosing a bullpup over conventional designs. Its compactness can improve the ability of soldier or a civilian in accomplishing their mission or defending home and property.
There has only been one bullpup rifle that I really liked—the FN PS90 Standard 5.7x28mm carbine. It shoulders well, is compact, drop-dead reliable, has zero recoil due to its cartridge and weight and is truly ambidextrous.
There is nothing to switch or change to enable the PS90 to be used by left-handed shooters. Its empties are ejected straight down. The magazine is removed from its top position by a central release, the safety switch is on both sides of the pistol grip, and the backup iron sights are mounted on the right and left side of the receiver. It is in some of these areas that the SAR has a few issues that must be understood from the outset.
Every battle rifle ever made has characteristics that draw criticism. Look at the M16—even with 50 years of criticism, it is still our primary battle rifle and the most popular sporting rifle ever made. Before that we had the M14, which was too long and too heavy and couldn't be fired controllably in full automatic mode.
The great M1 carbine, the handiest battle carbine ever fielded, was hampered by its relatively low-powered cartridge but still stayed in service for 40 or so years. Then there was the M1 Garand, the "greatest battle implement ever devised." During WWII it was criticized for its eight-round en-bloc feeding system, but it served as long as the M1 Carbine. Every firearm designed for use in life and death situations has its issues and your appreciation of them depends on which issues you are willing to overlook and adapt to.