Special Offer: 33% OFF 36th Edition Blue Book of Gun Values

The 36th Edition Blue Book of Gun Values contains more than 2,500 pages and thoroughly updated gun values for modern, antique, and discontinued firearms, in addition to new domestic and imported 2015 makes and models. Also included is the 80-page color Photo Percentage Grading System (PPGS), which helps identify firearms' condition factors, an essential component of determining any gun's value. Discover descriptions for almost 30,000 gun models, coverage of more than 1,500 gun manufacturers, and over 180,000 gun prices! Click here
---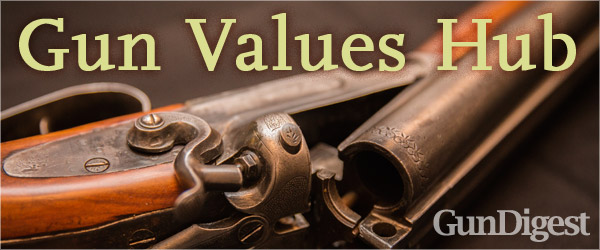 Welcome to the Gun Values Hub from Gun Digest, where you'll find information on firearm values and gun prices in a variety of formats. Just follow the steps below to get started.
START HERE: How to Do You Want Your Firearm Values Information?
I'd like a print book of gun prices.
I'd like a digital download with firearm pricing information.
I'd like a database I can search on my computer or mobile device.
I want to read articles online about market trends.
---
Firearm Values Print Books
Gun Digest offers many industry-standard gun pricing books. You can order them directly from the publisher through GunDigestStore.com at a great price. Here are the most popular books Gun Digest offers.
2016 Standard Catalog of Firearms – Now in its 26th edition, this must-have firearm values book contains 26,000 listings. Careful: It's heavy!
36th Edition Blue Book of Gun Values – This comprehensive book has so much information, it's become its own verb. If you've never "Bluebooked it" before, you will after picking up a copy.
The Official Gun Digest Book of Guns & Prices, 10th Edition – Need something more portable for carrying around at gun shows? The "little red book" is for you. It packs listings of 15,000 firearms into a convenient book.
---
Firearm Values Digital Downloads
Don't have time for a big print book? Download only the information you need. GunDigestStore.com offers PDFs for the following brands:
Digital downloads of GunDigestStore.com's best firearm values books are also available:
The Official Gun Digest Book of Guns & Prices, 10th Edition PDF
2015 Standard Catalog of Firearms, 25th Edition PDF
---
Find Guns: Gun Digest's Firearm Values Program
Browse thousands of gun values online or on your mobile device with Find Guns, powered by Gun Digest.
Find firearm values for every gun under the sun, organized by condition from the Standard Catalog of Firearms
110,000 listings
Covers new and used gun values
Not sure of the model? Browse images to find the right new or used gun prices
This powerful tool is yours for $3.99/month