But Forehand & Wadsworth was built on revolvers, and revolvers remained its bread and butter. As did almost everyone, F&W relentlessly knocked off Smith & Wesson's .32-caliber and .38-caliber double-action top-break revolvers in hammer and hammerless versions. No F&W production records from that era survive, but judging from the number of its S&W clones today, the company must have sold a boatload or two of them.
As the company closed out the decade, it also introduced a nice copy of Webley's snub-nosed Bull Dog revolver. This sturdy little gun was available in a seven-shot .32 version, a six-shot .38 and a six-shot .44 that chambered the stubby .44 Webley. F&W was candid in its assessment of its copy of the Webley: "It is the leading double action of the cheaper grades."
Forehand, who might be described today as a workaholic, ran Forehand & Wadsworth pretty much as a one-man show. Under his steady hand, the company flourished. Wadsworth remained in the shadows until retiring in 1883. Not much is known of his subsequent activities except that he died in Brazil before 1898.
F&W revolvers are not always marked as such. F&W catered to retailers, jobbers (wholesalers) and catalogers, who often stenciled the products with their own idiosyncratic names or had F&W do it for them. Some include Indian, Indian Bull, Boston Bull Dog, Terrior (the latter probably a misstamp for Terror, or Terrier, or both).
In 1890, believing his name had achieved prominence, Forehand renamed his company Forehand Arms Co. That's a useful bit of trivia because it helps assign general dates to the Forehand guns, and it means that any F&W product labeled "Forehand & Wadsworth" was built well before 1898 and can be considered an antique, free of federal transfer restrictions.
Retirement was not in Forehand's vocabulary. The end came for him at 5:40 p.m., Sept. 7, 1898. After a day of fishing in nearby Rutland, Mass., he complained to his coachman of chest pains, which were dismissed as another of Forehand's chronic attacks of indigestion. Events proved otherwise, however, and he died barely an hour later, surrounded by his family, at age 66. His funeral was held Sept. 11 at his home at 5 Benefit St. in Worcester. He was buried in that city's Rural Cemetery.
Forehand's sons, Frederick and Charles E,. ran Forehand Arms Co. until 1902, when it was sold to a competitor, Hopkins & Allen — no relation to Ethan Allen. By then, the products of the Forehand Arms Co. had become unremarkable little break-action revolvers. The collector value of guns marked "Forehand Arms Co." is considered less than that of those bearing the full F&W name, though no one is likely to sell off his Colt Paterson collection to invest in any Forehand-marked guns.
One final note: I am indebted to the folks at the Worcester, Mass., Public Library who went out of their way to unearth the original Sept. 8, 1898, obituary of Forehand, which recounts much of the story of his life.
During a time when concealed carry is such a hot topic, Foreman and Wadsworth deserve to be remembered.
This article appeared in the December 3, 2004 issue of Gun List (now Gun Digest the Magazine).
---
Recommended books for gun collectors: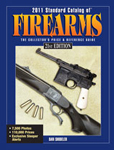 2011 Standard Catalog of Firearms, 21st Edition.
The Official Gun Digest Book of Guns & Prices 2011