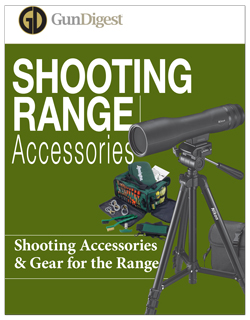 Exclusive for Gun Broker newsletter subscribers! Enter your e-mail in the box below for a free digital book of shooting range accessories. You'll also receive e-newsletters from Gun Digest and partners full of more great information.
---
The approach to what we now call a "carry gun" was much different a generation ago. In those halcyon days, most folks tucked a neat little break-action revolver in their waistband or dropped a slim semi-auto in their pocket and went about their business. No one thought this was a menace to civil society. Such practices didn't evoke mass hysteria in the media, nor were they considered dangerous by anyone, except crooks.
The choice of defensive calibers was also much different then. It was determined not only by the petite size of the typical handgun, but also because high-powered antibiotics had not yet become widely available, and someone shot with anything, even a .22, had a good chance of getting a serious infection and heading to their last roundup.
It is within this cultural context that we assess the Colt Model 1903 semi-automatic. It is a typical example of the period's armament that, even today, fits Gun Digest's honored definition of "One Good Gun."
The M-1903 was designed by none other than John M. Browning and is the culmination of a series of pistols launched in 1896. Browning gave Colt the exclusive right to manufacture pistols of his design and market them, not only in the United States, but in Great Britain and Ireland, as well.
A similar agreement was executed between Browning and Belgium's Fabrique Nationale (FN), in 1897, for Europe, but excluded the three countries noted above. The understanding was that Colt would make locked-breech guns and FN would manufacture blowback guns.
While this convoluted arrangement evolved into several models on both sides of the pond in .32, 9mm and .38 calibers, this geographical manufacturing dichotomy would later become significant in the popularity of the M-1903.
By 1900, Colt needed a sales success and petitioned Browning to allow them to make a blowback design. FN had introduced the .32 Automatic Colt Pistol (ACP) cartridge, in 1899, in its 1899/1900 pistol. Browning acquiesced, cut a very lucrative deal with Colt, and slightly modified the gun's design.
Thus, in 1902, Colt started production of the Colt Automatic Pistol, Pocket Model (factory designation Model M). The gun went on sale in August of that year and was a huge hit. It was also called the Hammerless Pocket Model; of course, it wasn't truly hammerless, as the hammer was simply concealed in the frame.
The M-1903 has a manual safety on the left side of the frame and was the first gun to be offered with a grip safety. Edges and corners were rounded and smoothed so that it was indeed easy to slip into one's pocket, hence the model's moniker.