Manufacturers have produced a number of optics over the course of the past year. Here's a look at our picks for the best optics of 2015.
What's the difference between a good scope and a great one? That's a question you don't want to ask when the buck of a lifetime is staring at you from across the canyon. Quality glass—spotting scopes, binoculars, riflescopes and rangefinders—can mean the difference between a successful hunt or a bust, a win or loss at the range.
The good news? We made your job a little easier by taking a close look at the countless optics available today and whittling the choices to the best of the best. Yeah, they will probably set you back a pretty penny, but you know what they say: You get what you pay for. Besides, what quality piece of equipment isn't expensive these days?
Trijicon AccuPower
Trijicon's newest offering is a deviation from their battery-free, tritium-lighted reticle, but it's a winner by its own right. The AccuPower's illuminated reticle is powered by a lithium battery, which lasts at least 31 hours at the highest setting and includes 11 settings with an "off" feature between each setting. Lining up the bull's eye in the lowest light is as easy as looking through the scope. The full multi-layer coated glass allows crisp edge-to-edge views and super-high light transmission. The second focal plane reticle gives long-range shooters a clear view of the smallest targets. Each scope is available in at least three reticle choices, and you can choose from 1-4×24, 2.5-10×56, 3-9×40 and 4-16×50. ($699; Trijicon.com)
Swarovski X5
Swarovksi's X5 long-range scope is the first true long-range scope from the Austrian company. It's available in three versions: 3.5-18×50, 5-25×56 and 5-25×56, which offers 1/8 or 1/4 MOA impact point adjustment. All three are built with Swarovski's high standards and highest quality materials. Like other Swarovski products, the X5 isn't cheap, but it will be the last long-range scope you'll ever buy. The wide field of view allows for rapid target acquisition, the fully multi-coated lenses offer maximum light transmission and clarity, and the high-contrast reticle gives you the ability to see the smallest details. All three models include a sub-zero feature that allows you to go below the sight-in distance for close targets, and all three offer three different reticles. The 5-25 has a max elevation MOA of 82 and a max windage MOA of 50. ($3,499; SwarovskiOptik.com)
Steiner M5Xi 3-15×50 Military Optic
You don't have to join the military to get the best equipment in the world. You'll have to pay for it yourself, of course, but when your pride, your elk tag or your standing in the shooting competition is on the line, who wouldn't want a scope used by our military's top shooters? Steiner's German-made M5Xi is perfect for competition shooters as well as hunters who stretch out their shots. An 11-stage illuminated G2B Mil-Dot or MSR reticle allows for precision shots in any light condition, and the patented DuoScale elevation knob lets you make fast adjustments in the field. The 34mm tube is waterproof and shockproof. The elevation range is 26 mils at 100 meters and the windage range is 6 mils at 100 meters. ($3,329.99; Steiner-Optics.com)
Nikon ProStaff 7i
Some of the best optics don't require you to choose between new equipment and your kid's college tuition. Nikon's new Prostaff 7i rangefinder isn't just perfect for budget-minded mothers and fathers, it's faster, lighter, more accurate and just plain better than many of the other rangefinders available today. It takes just a half-second to accurately measure out to 1,300 yards. It's small enough to carry anywhere and for any type of hunting. It weighs just 6.2 ounces, and the viewer has 6x magnification. Measured increments are .1 yards out to 1,000 yards and 1 yard from 1,000 to 1,300 yards. It's waterproof and includes a target priority switch, allowing you to measure overlapping subjects, and it comes with a horizontal and actual distance display mode. ($299.95; NikonSportOptics.com)
G7 BR2 rangefinder
The G7 BR2 is packed with features that help all shooters and hunters make better shots, but hands down, it's the best tool for long-range enthusiasts. It's programmable for up to five cartridge combinations, and inputs include ballistic coefficient, sight height, muzzle velocity, altitude and temperature. Onboard sensors measure the incline angle, barometric pressure and altitude. Shoot-to range works with BDC and holdover reticles. With a functional range of 1,500 yards, a 7x magnification and a weight of just 14.3 ounces, you'll carry this tool when you need to make every shot count. ($1,599; GSeven.com)
Nightforce TS80
Nightforce's newest spotting scope, the TS-80 Hi-Def 20-60x, is a follow-up to its award-winning TS-82, the company's first spotting scope model. The TS-80 is a winner, too. It's not just fast and easy to use; it comes with all the features you need in a spotting scope. It's built with fully multi-coated lenses and an internal prism design for maximum light transmission. It offers a bright, clear view at all distances. A large, knurled focus ring allows for fast target focus, and a magnesium alloy body gives you peace of mind every time you take the TS-80 out of its case. It weighs 68 ounces.
($1,595; Nightforceoptics.com)
Swarovski ATX
Is it any wonder the name Swarovski shows up on "Best Of" lists everywhere? Pick up any of the company's products, put your eyes to it and you'll see why. Swarovski's newest spotting scope, the ATX, is another first-class product. Built with the highest quality glass, the best materials and industry-leading standards, the ATX is right at home in the most rugged backcountry or on a perfectly manicured rifle range. The objective lens is available in either a straight or angled eyepiece to suit your style of glassing, and one-hand operation allows for easy and comfortable use. Available in 25-60×65, 30-70×95 and 25-60×85 and weighing just 55.9 ounces, you'll see your target clearer and at longer distances than ever before. ($3,775; SwarovskiOptik.com)
Aimpoint Micro T-2
"Micro" is certainly an appropriate name for Aimpoint's new Micro T-2 sight. Weighing just 3.7 ounces (including the mount) and measuring just 2.7 inches long, it's the ideal 1x, 2-MOA red dot sight for shooters of all stripes. It works on handguns, shotguns and rifles and even as a piggyback sight. An integral Picatinny-style base attaches to any rail. The T-2 has four night vision-compatible settings and eight daylight settings. If that's not enough, the battery lasts up to 50,000 hours. The lenses allow maximum light transmission for fast and crystal-clear target acquisition. ($736; Aimpoint.com)
Zeiss Victory SF
Zeiss' new Victory SF binoculars may cost more than your first car, but you'll never have to buy another pair of binoculars again. Built with a seven-lens element eyepiece and a field flattener for sharp, bright images, the Victory SF binoculars are available in 8×42 and 10×42. They have some of the widest fields of view in the industry. Zeiss built them with a faster focusing wheel and a new design that fits in your hands better, feels better and reduces fatigue better than any pair of binoculars you've held before. They weigh just 27.5 ounces and are backed with a limited no-fault lifetime warranty. ($2,888.87; Zeiss.com)
Maven B1 8×42
You may have never heard of Maven, but don't let that fool you. The small Wyoming-based company only makes three binocular models, which means they can focus on quality and customer service. Their B1 weighs less than 30 ounces and is available in 8×42 and 10×42 models. The view is bright, crisp and crystal-clear from edge-to-edge. The glass allows nearly 92-percent light transmission. If quality craftsmanship isn't enough, Maven allows you to build a custom pair with your favorite color combinations. Wrap it in your choice of two solid or five camo patterns and customize everything from the focus knob to the lens rings in eight color choices. What better way to personalize the binoculars you'll carry around your neck every time you shoot or hunt? ($900; MavenBuilt.com)
Vortex Razor HD
Vortex may not carry the name recognition of the better-known European companies, but their products are everything you could want in optics. The Razor HD binoculars are not only packed with features, they are light, sturdy and just plain easy to carry and use. Fully multi-coated glass allows maximum light transmission, and HD lens elements offer a clear, true sight picture. These roof prism binoculars weigh just 24.8 ounces and are available in 8×42, 10×42, 10×50 and 12×50. They are waterproof and fog proof and are coated with a durable rubber armor to protect them from all the abuse you can dish out. ($1,499; VortexOptics.com)
Swarovski 8×42 EL Range
Tired of carrying a rangefinder and binoculars? Not only did Swarovski solve that dilemma, they solved it with the best available technology in a single product. Their new EL Range range-finding binoculars offer immediate ranging from 33 to 1,500 yards and include a scan mode to measure moving targets. The angle-adjustment display helps take the guesswork out of distances at various angles. Just point, click and shoot. They also include an auto-brightness option. Available in 8×42 and 10×42, the EL Range binoculars have a 411-foot field of view at 1,000 yards and offer 91 percent light transmission, thanks to Swarovski's highest quality glass. They weigh just 31.6 ounces. ($3,577; SwarovskiOptik.com)
---
Recommended: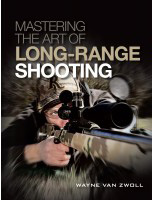 Mastering the Art of Long Range Shooting
A complete guide for long distance shooting, and perfect for the rifle enthusiast interested in hunting and competitive shooting. This helpful guide is packed with helpful tables on long-range loads for centerfires, a how-to section on expert military and competitive shooting techniques, an assessment of special sights (irons and optics), an analysis of the equipment that does not help accuracy over distance, and much more. Learn more