United Parcel Service (UPS)

The following is taken directly from the UPS web site: Special Procedures for Shipping Firearms
Firearms will be transported only between licensed importers, licensed manufacturers, licensed dealers, and licensed collectors, as defined in the United States Gun Control Act of 1968, law enforcement agencies of the United States or of any department or agency thereof and law enforcement agencies of any state or department agency, or political subdivision thereof, and between persons not otherwise prohibited from shipping firearms by federal, state or local law and when such shipment complies with all applicable federal, state and local laws.
You must ship your packages that contain handguns with UPS Next Day Air Early A.M., UPS Next Day Air, or UPS Next Day Air Saver services. Your packages that contain firearms will not be accepted for shipment at UPS Drop Boxes, with UPS SonicAir service, at locations of The UPS Store or any third-party retailer, or with international services.
Your packages that contain handguns must be separated from other packages being delivered to UPS. Ammunition cannot be included in your packages that contain firearms (including handguns)
When you are shipping your package that contains a firearm with UPS, you must affix a UPS label requesting an adult signature upon delivery.
You can only ship your package that contains a firearm from UPS daily pickup accounts and through UPS Customer Centers. When you are shipping a package that contains a handgun, you must verbally notify the UPS driver or UPS Customer Center clerk.
See the terms and conditions in the UPS Tariff for shipping firearms." This additional sentence is contained in the UPS tariff: UPS, in its sole discretion, may require the shipper select Next Day Air service for any shipment containing a firearm.
My UPS notes
UPS only accepts firearms at a UPS customer center and this is inconvenient for many people. Customer centers usually are located at the UPS truck terminals where the local drivers are based. That could be a hundred miles or more from some locations. Some UPS employees are interpreting the first sentence in the Shipping Procedures for Firearms document to mean only FFL holders can ship firearms. I think the final clause "and between persons not otherwise prohibited from shipping firearms by federal, state or local law and when such shipment complies with all applicable federal, state and local laws" leaves the door open for non-licensees to ship firearms.
Federal Express
"Federal Express can only accept and deliver firearms between areas served in the U.S. under the following conditions: (1) you agree to tender shipments of firearms to us only when either the shipper or recipient is a licensed manufacturer, licensed importer, licensed dealer or licensed collector and is not prohibited from making such shipments by local, state or federal regulations; (2) the shipper and recipient must be of legal age as identified by applicable state law.
Firearms must be shipped via FedEx Priority Overnight service. FedEx cannot ship or deliver firearms C.O.D. or with a signature release. Upon presenting the package for shipment, the person tendering the shipment to FedEx is required to notify the FedEx employee who accepts the package that the package contains a firearm. The outside of the package must not be marked, labeled or otherwise identify that the package contains a firearm. Firearms shipments cannot be placed in a FedEx Express Drop Box.
You also agree not to ship loaded firearms or firearms with ammunition in the same package. Ammunition is an explosive and must be shipped separately as dangerous goods. The shipper and recipient are required to comply with all applicable government regulations and laws, including those pertaining to labeling. The Bureau of Alcohol, Tobacco, Firearms and Explosives can provide assistance."
I have never shipped a firearm through FedEx. The nearest FedEx office is 50 miles from me. The next day requirement on all guns makes FedEx a costly option for firearm shipments. I have heard they sometimes will want to inspect a firearm to insure it is unloaded. This is a pain if you have already boxed the gun up. Some clerks are even requiring that a firearm be broken down, but I can find nothing about it in their tariff.
Packing Hints
In over 600 firearms shipped since 1998, when I started doing mail order and Internet sales, I have had only seven damaged shipments. All were with UPS, because I use them for most long guns. All damage involved broken stocks. In all cases but one, they paid the insurance claim. I use a 6 x 6 x 48 inch heavy cardboard shipping carton.
The gun is put in a padded gun sleeve and foam packing peanuts are used to fill up the empty space in the box. I have had no damage claims since I started using the packing peanuts. Do not use wadded newspapers as packing.
If you are only shipping a few long guns I suggest just buying a plastic hard case with foam padding. These can be had for around $20 at most Mart marts. Keep the cardboard box the case comes in.
Gun in hard case, case in box, tape it up and cross your fingers.
Good luck with your firearm shipping adventure. The situation could get worse. If UPS and FedEx decided to not allow any non-FFL firearms shipments it would leave USPS as the only option. It could happen.
---
Resources for Military Gun Collectors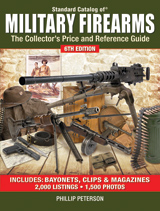 The Standard Catalog of Military Firearms
The Greatest Guns of Gun Digest
Flayderman's Guide to Antique American Firearms and Their Values
Gun Digest 1944 – 2009 3-DVD Set